Alaska Sea Kayaking Trips
Sea Kayaking is the perfect outdoor Alaska Adventure. Kayaks were invented by Alaska natives, many centuries ago and for good reason. The incredible coastline of Alaska is the perfect place to paddle.
Our sea kayaking trips are a great Alaska vacation. Much easier than backpacking, yet the quiet peaceful mode of travel in Alaska's great wilderness that is so much more rewarding than motorized travel.
I've paddled the remote corners of Wrangell-St. Elias National Park's dynamic Icy Bay. This area is simply world class sea kayaking.
One of Alaska's best kept (an least travelled) secrets, Icy Bay offers world class sea kayaking with incredible scenery.
Paddle among the giant, calving glaciers, countless icebergs, various species of marine mammals, and myriad different sea birds in an area so well isolated you will feel like you are the only people left on the planet.
National Geographic Adventure magazine calls it one of the 10 coolest places on earth!
Interested in learning about sea kayaking? Click here   →
Sea Kayaking Tours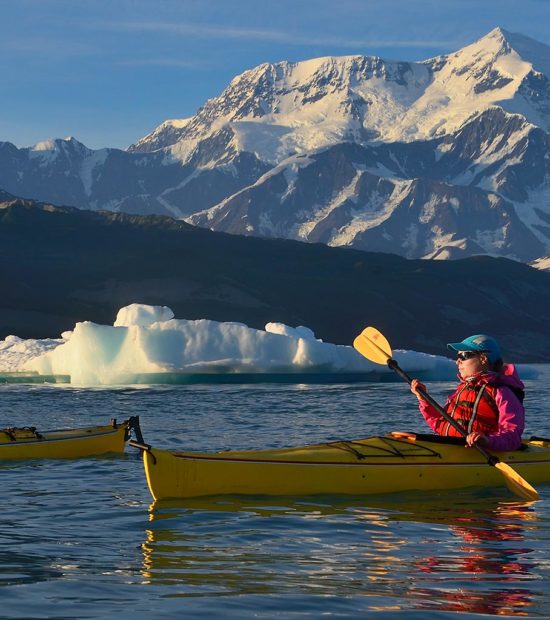 Discover Icy Bay. World Class Kayaking.
Duration
1-4 Days
4-8 Days
Difficulty
Mild
On a scale of 1 – 5, five being the most challenging, two hiking boots is at the easier end of the spectrum.
1 boot = basecamp/dayhike easy
2 boots = easier backpacking trip
3 boots = intermediate level trip
4 boots = intermediate to advanced backpacking
5 boots = ask yourself are you really ready for this?
Expect whatever level you think might best fit you to be one level LOWER on our scale. Hiking here in Alaska is generally a step or three above what you'll find in the Lower 48 states.
Realize that backpacking is never "easy". You're carrying from 35-50+ pounds on your back day after day. You'll be hiking for a number of hours each day (varies trip to trip, day to day), and that's not "easy" for most people.
That said, our "2 hiking boots" level should meet the need for most novice backpackers, and are generally what I recommend for families with younger kids, etc as well. Terrain challenges aren't usually a problem, and the walking is somewhat more orthodox. You won't be traversing 1 mile of steep sidehill covered in slippery rocks, or snaking through dense thickets of alder and willow.
Grab A Paddle
Learn more about Sea Kayaking