Choices Choices Choices
Carl Explores the Heart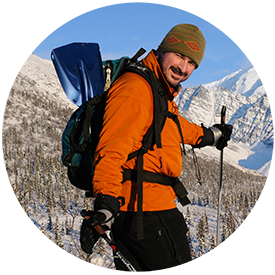 Coming in 2022, Carl is leading a backpack trip he was twice thwarted with in 2021. The Heart of the Park, in Wrangell-St. Elias National Park.
3 Spaces left
Departs from Anchorage
Dates Aug 11-21, 2022
Price $2800
Difficulty rating: intermediate level.
Highlights The Wrangell Mountains. Need there be more?
We'll be on the less-visited north side of the park. We'll fly in the same ay we travel from Anchorage, and spend each night of the trek in the backcountry. No overnight lodging unless we get some dodgy weather issues that delay flights.
We hike past Mt Jarvis over toward Mt Sanford, and across some great alpine tundra. Pickup and fly back to Glennallen, eat some tacos and scoot back to Anchorage.
This will be sweet.
Rhane Goes High
Rhane is aiming to guide the High Route, in Lake Clark National Park. "Man, I LOVE this place!"
Turquoise to Twin. Not the low route. The High Route. A burly walk.
Highlights A challenging exploratory walk through one of the most scenic passes in Alaska.
Departs from Anchorage
Dates July 24-31 (4 spaces)
Price $3100
Difficulty Rating: Challenging.
A harder trek than the more commonly hiked route from Turquoise to Twin, this is not for folks who aren't solid on talus, scree and rock. Good Classic high alpine country to walk through and explore before dropping down to Twin. Fly back to Anchorage.
Depending on water levels you'll have a solid river crossing. The main terrain challenges is the rocky pass. But those peaks above you are reward enough.
An Alaskan Classic.
Rachel Goes to Denali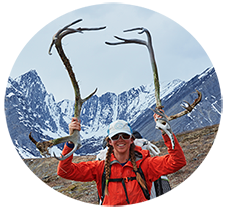 Rachel could end up anywhere. But July 12-21, 2022, she'll be backpacking the Whale's Tail in Denali National Park.
Why this one? Because it's Denali National Park, that's why.
Highlights Exploratory. Rarely visited. Views of the highest Mountain in North America.
Departs from Anchorage
Dates July 12-21 (1 space)
Price $3400
Difficulty Rating: Challenging.
You fly from Anchorage to Denali National Park, near the legendary Ruth Glacier. A steep burly clamber up to the tundra on a ridge above the valley, and explore the high country. Steep country.
You'll backpack along the ridgeline and then drop down and make your way back toward your bushplane's pickup spot. Requires solid skills for sidehilling, some bushwhacking and a happy countenance. With luck, Rachel can show you some sweet view of Mt. Denali.
Join her.
How's this work?
We are super stoked about this idea. And we think you will be too.
These select trips are specifically designed around what the guides want to do. We schedule the trip, scout it, map it, plan it, and then invite you to join us to undertake it.
Typically, these trips will be a little more rugged, a little more adventurous. You should be too.
The trip may be an exploratory route we've never done before but had our eye on. Sometimes they'll just be a guide's favorite trip that he or she decides "I'm going to do this route again next year". Whatever the nature of the trip, they'll be a lot of fun.
All of this means the trip will likely require you to be a little more self-sufficient than some of the other options we run. We'll still look after you, of course.
Initially the trips are by invite over, and a tip of the hat to repeat guests who are looking for another adventure with us.
Why? Because we think you'll appreciate the invite and you'll appreciate a trip tailored for folks of a similar mindset.
Schedules: Dates are set and the trip scheduled. If that schedule works for you, we'd love to have you along. If not, we'll look at another trip for you or maybe next year.
Logistics: We'll configure the route, the logistics and help you with the gear and whatever else you need. We just want to be clear the purpose of these trips is as much about the guide doing a trip he or she wants to do as it is us taking you out on a route you want to do.
These aren't for everyone, but they may be perfect for you.