Trip Highlights
This route is possible in just a few days but really is a great option for a week long trip. One week nicely allows time to explore the Hidden Creek drainage. It's a real treat to hike through, definitely one of the prettiest little alpine valleys in the park, if not all of Alaska.
We then cross a small ridge and ascend up the valley towards Mt. Blackburn and the 'the Fosse', a small depression between the glacier and the mountains next to the lateral moraine.
A day on the glacier is a nice option too. Most folks have never hiked on a glacier before, so this is always fun.
The side canyon up Glacier Creek is a nice walk, and there are some wonderful day hikes in the upper alpine valley region as well.
You'll have a blast hiking in Oz.
The Place
Mt. Blackburn
The 5th highest mountain in the country sits a few miles north of our route.  Mount Blackburn dominates its surrounding landscape like all big mountains, towering above you as you hike.
16 390' high.
Blackburn is named after Sen Joe Blackburn, a US senator from Kentucky. The local Ahtna name for the mountain is K'a'si Tl'aadi or "the one at cold headwaters".
Kennicott Glacier
Pouring off the southeastern face of the Mt. Blackburn, Kennicott Glacier is perhaps the best known of the glaciers that take the mountain as their headwaters. Let's take an extra day, and wander around on this chunk of ice.
Nearly 30 miles in length, we never know exactly what we'll find on these glaciers. Every hike is something different.
Trip Logistics
We travel from Anchorage to McCarthy, overnight in McCarthy and then fly in to the backcountry. A week in the backcountry area and we fly back to McCarthy, show and eat and afterward enjoy the afternoon relaxing in the slow-paced rustic town of McCarthy. Or venture up to Kennicott and look at the historic copper mine Mill buildings and leftovers of this ghost town. We spend the night in McCarthy and travel back to Anchorage on the final day.
There's a link below in the FAQ section to a comprehensive outline of your return travel schedule Anchorage – McCarthy.
Who's It For?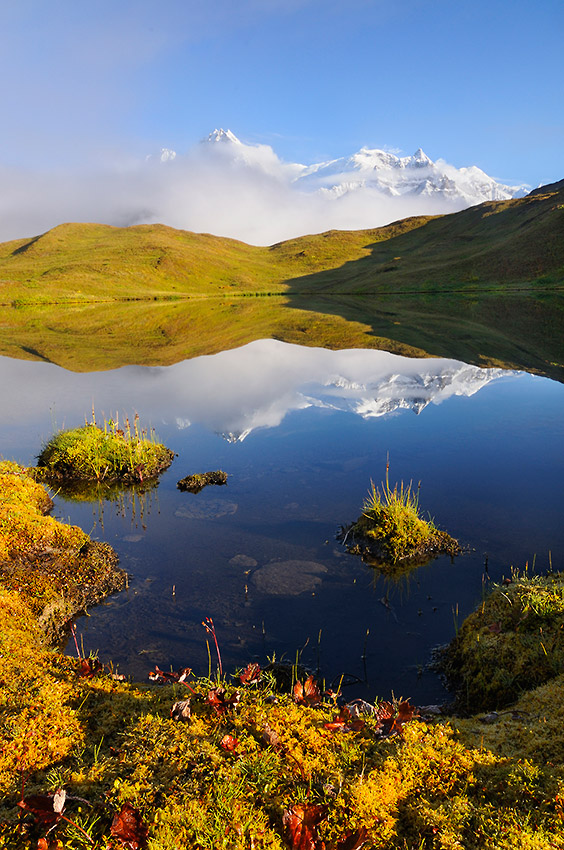 Those people looking for a shorter hike may have well met their perfect match here at Oz.
The hike doesn't cover a lot of miles and is a great 3-5 day backcountry trip. Beginner backpackers are fine but you must be able to traverse some steeper sidehill sections. One or two open exposed slopes can cause minor quibbles for those folks uncomfortable with looking down and wondering 'what if'. Nothing too sketchy but it can challenge some hikers.
Advanced hikers looking for a few more days in backcountry might prefer to include a walk Through Oz as part of the Rugged Hike Home from Nugget Creek to Kennicott. If you're interested in that trek, let me know. We've ran it a few times and it's always a blast.
Biggest Challenges
River crossings. Unless Hidden Creek is at high water, the crossings are not too bad at all. Get used to the cold water however, as we usually cross 2-3 times on the way up the valley.
Some bushwhacking as noted in the itinerary.
Sidehilling is probably the hardest part of the route.
Steep exposure on a couple of sections.
Trip Extensions
There are two options for extending this trip. Contact us and inquire about either. Or, if you're really looking for full on Alaska experience let's chat about working in both of them.
Backpacking
One option is to start a little further west near the confluence of Nugget Creek and Kuskulana Glacier. Hike east to the Lakina River and complete our Hidden Creek itinerary. If you're up for it continue on across two glaciers and walk right back to Kennicott. A fun and challenging hike. Not for the meek.
Packrafting
A second option is to packraft the Lakina River. See packraft trips for this info. Or drop me a note.
Trip Itinerary
The Hidden Creek backpacking trip in Wrangell-St. Elias National Park is a fun hike; not too hard, not too easy, and a little something for everyone. Like all the trips I run, the itinerary is somewhat fluid. Weather, hiker experience, and many other factors determine the actual trip. But to give the web visitor a basic outline of how this trip might typically unfold, here's a detailed look at the Hidden Creek route: for simplicity's sake, I'll assume the trip dates are Aug 1 – Aug 8.
Realize everything here is simply an example. I've hiked this route, point to point, in under 2 days, and I've also spent 9 days doing this route. I feel a 5-day backpacking trip (+ 2 days travel) is about perfect for this route. For a fun additional option, consider packrafting from our pickup location down the Lakina River instead of flying back to McCarthy (experienced paddlers only).