Aurora borealis timelapse
Location Location Location
This photo tour is a great opportunity for photographers interested in shooting the aurora borealis. While no one can ever say with certainty exactly when and where the aurora borealis display might occur, Fairbanks is certainly one of the best locations in Alaska to view the northern lights. Just as critically it's a great central location within Alaska to get around the state to other potential shooting locations.
This has 2 benefits to your photography.
Firstly it means you aren't stuck shooting the same scenes and compositions night after night. One night we might be framing the aurora borealis roaring over the top of Mt. Denali and the next evening you could be standing on the high open subarctic tundra, composing the snow-laden spruce trees of the boreal forest against a swirling, Rising Vapor column. A diversity of photos is available that simply is not possible when locked in a remote cabin in some inaccessible backcountry wilderness.
Secondly, mobility gives you many more options to actually find the aurora. Given the aurora borealis' often fickle willingness to display, a compounding challenge is finding clear skies. Clouds can roll in and cover the most wondrous spectacle you ever saw and it's awfully frustrating to not have the option available to jump in your car and drive a hundred miles off to clearer skies. The advantage of local knowledge is immeasurable.
Local Knowledge
The advantage of all the resources a local Alaskan may have that folks from elsewhere typically do not. If the weather threatens to disrupt our planned itinerary, I'll jump on the phone in the afternoon, call my friends in Glennallen and see what the skies look like over there. Or we might look south toward Denali National Park. Or north toward the Arctic. You simply can't beat the benefit of local knowledge when it comes to finding locations to shoot the aurora borealis.
We'll be driving wherever we need to go to seek out great foreground locations, clear skies and spectacular aurora borealis displays.
Aurora Borealis Photography
Photography
We'll be concentrating on the aurora borealis. That means shooting at night.
Secondary options will be the endless array of Alaska winter scenics and landscape photography opportunities in interior Alaska. But that will be contingent on the weather and the aurora borealis displays.
Our priority will be the northern lights, front and center. If the aurora isn't happening (as can happen) or the weather doesn't cooperate for northern lights photography then we'll spend our time on alternatives.
The primary focus will be photographing the aurora.
Photography Schedule
This will be determined completely by the aurora borealis and the weather. That means we'll be effectively "on call" during the night. You'll be heading out to shoot after sunset and then waiting to see what happens with the aurora. The aurora borealis can come on anytime, right after sunset or later at night. We'll use every option available to best predict when the displays might occur but for the most part it's a waiting game of cat and mouse. Be patient.
You'll be catching up on sleep during the day. I'll also be catching up on sleep during the day. We'll be shooting at night. Trying to do both simply doesn't work beyond one day or so. For this photo tour the key is being as flexible and "ready to go" as possible. Don't think of it as any kind of preset schedule.
Some nights the aurora pops out right after sunset others it's 3am before she dances our way.
What You Need?
You'll need to bring warm winter clothes. A headlamp (or 2). See here for a detailed article on cold weather clothing for photography.
Your camera gear. See this comprehensive guide to shooting aurora borealis photography for an in-depth look at what works and what doesn't work (better yet, download the eBook version of that entire series of articles via this link).
In brief, you want 2 cameras, wide angle lenses, and solid tripod/ballhead. Faster lenses will be an immeasurable benefit. No filters for aurora borealis photography but your standard polarizer and GND filters are helpful for any landscape photography we may do. If you have any questions about camera gear or clothing options just send me a note before the tour. But it's mostly covered in the links above. The eBook is your best information source.
Your Guide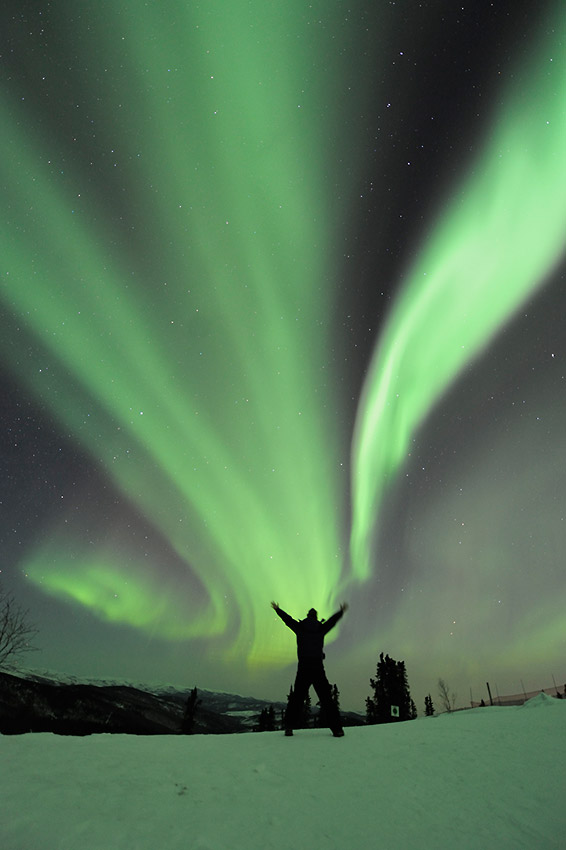 Carl Donohue. Experienced and professional backcountry guide, frontcountry guide, photographer, photo tour leader and instructor. I'm a certified Wilderness First Responder and have years of experience in the field.
I've spent the last ten years living in Alaska and guided here 15. I deal with Alaska winter driving conditions every year. I outfit the AWD van with tow straps, two spare tires, flares and extra fluids, a sat phone, first aid kits and emergency supplies rig including sleeping bags and fire starters. Breaking down or getting stuck on a quiet backroad in Alaska in winter at 2 in the morning is not something to treat lightly. So I don't.
I'm a photographer and a musician. I've taught either or both these arts most of my adult life. Working as instructor in the arts is something I enjoy immensely.
Read more here Meet Carl 
What makes My Photo Tours Special
What's Provided?
This photo tour covers your accommodation and your travel from Fairbanks, as well as professional photo tour and guiding services. Meals are not included. This tour is both a photo workshop and a photo tour. The purpose of the trip here is not instruction but we tend to end up doing a lot of in the field assistance and guidance as well as shooting. I'm always happy to offer any field coaching of course and share what experience I have that may be of benefit to you.
I'll bring a couple thermoses and cups for tea, coffee and hot chocolate to wile away the night when we're not shooting.
Info
Getting There
You'll need to travel to Fairbanks. We'll meet there. Fairbanks has a major international airport so it's pretty straightforward. If you like you can fly to Anchorage and drive up. Allow 6-7 hours or longer depending on road conditions. The photo tour will base out of Fairbanks so when we finish up you can fly back home right from Fairbanks as well.
Accommodations
You'll be staying in a hotel in Fairbanks.
No you do not need to pay a single supplement fee for your own room.
Breakfast is included at the hotel but we're often not awake for breakfast hours.
Communications
Yes you'll have cell service and and internet available in Fairbanks.
Gear
I don't rent winter clothing or photography gear. Start with Prospectors in Fairbanks for your winter clothing. If you need camera gear let me know. Your Trip Info Packet will cover all your gear/equipment needs.
Recommended
Weather delays are not unusual with Alaska air travel at any time of year so you should aim to get to Fairbanks the day before the trip begins. Spend the night and we'll meet up on Day 1 of the trip in Fairbanks.
Snowshoes are not needed.
Trip Itinerary
This trip itinerary is ridiculously simple.
Your first day we meet around 4 or 5pm. We'll have a quick orientation and get acquainted, then go to dinner. Then we head out to shoot.
We go out for dinner each evening (meals are not included), return to the hotel, change, and head out for the aurora. Where we go will depend on the weather, the roads, the aurora activity prediction and a million other factors.
When we get back depends on the aurora, the weather and how the group feels. Some nights we're out til 1am, some nights we might not return until 8am.
Sleep during the day.
The itinerary is loose and fluid. It needs to be. You should be as well. That'll make for a far more productive photo tour than setting to some ordained structure. Trust me on that.