More than twenty years ago I started a small guiding business here. This business has now expanded and grown to where I work with several other guides each summer. These folks are some rockstar mountain guides. All of them are solid.
Some of these routes I've hiked dozens of times. Some of these bears I've photographed since they were tiny cubs, 15 years ago. I've been doing this a long time.
We know the place well. We know the land. We know what we do. And we love it.
I'm sure you will as well.
Experience provides any guide a wealth of knowledge and training. I'm an infinitely better guide now than I was when I was 27.
But expertise also comes with training. Each of the guides I work with are not just proficient backcountry champions. They're all exceptionally well studied and formally instructed students of various different fields.
Each of these guides are certified and well-trained in wilderness travel. Whether it's crevasse rescue courses, swift water rescue courses, mountain safety, and Wilderness First Responder courses, or navigational skills, you'll find Expeditions Alaska guides on top of their game. Certified, practiced, and forever students honing their crafts.
Location matters.
We guide the trips that blow us away. A lot of exploration goes into each and every trip we lead. When we find a route or a location that drops our jaw, we know we're onto something that you'll be happy with.
We spend a great deal of time pushing to improve this service. We continually revise and update safety plans and protocols. We review and refine trip outlines and logistics. We maintain a genuine commitment to the environment.
Feedback from you, our clients, is an essential ongoing process that helps us steer everything forward.
And every year, we get better and better.
And better.
Meet Carl
I've been poking around wild Alaska since 1998 and guiding folks just like yourself on these extraordinary expeditions since 2002. I've guided National Geographic photographers and I've led remote multi-day sea kayaking and hiking vacations for a family of four.
My focus is your trip. Your adventure. Your experience. Attention to the personal detail is what I offer. Your trip is my priority.
Meet The Crew
Rachel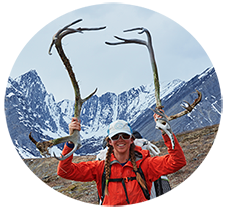 I've worked multiple years with Carl and Expeditions Alaska. I'm also an inveterate traveler, hiker, whitewater paddler, skier, and a great backcountry cook. Not even Carl knows all of what else I can do.
John
Ex-military Wilderness Survival Instructor. I've worked with Carl since we met in 2014. A hard-core climber and backpacker and love to guide folks new to Alaska. Busy now with a new baby boy.
On the internet, I live here
Rhane
A drifter. The Seven Pass route is my new favorite; what a hike. Winters I'm in South America climbing what can't be climbed and paddling what can't be paddled.
Living the dream in Alaska here
About You
Enough about us. Let's talk about you, the folks who come adventuring with us.
Beginners are definitely welcome and backpacking trips are typically tailored to suit clients' needs. A lazy couple of days base camping and hiking or exploring the surrounding region works great for some folks.
More strenuous hikes backpacking over rugged and remote terrain challenge the most experienced backcountry travelers.
Photo tours meet the interests of even the most passionate and experienced nature photographers. I've had everyone from the novices to National Geographic photographers join my tours.
" …. Carl is the best. He made our trip to The Skolai a true wilderness experience and we experienced the real Alaska. He tailors the trip to its members and is always there for you when you need him. …" Dave T, NJ.
A Newsletter Worth Reading
A great way to keep up to date with new trip offerings, special discounts, Alaska photos, trip stories, and more.
Affiliations and Professional Organizations
For your security and peace of mind, Expeditions Alaska is a licensed business with the Alaska Department of Community and Business Development (Lic. # 967085). Expeditions Alaska always has the necessary insurance and permits to operate inside the various National Parks, Refuges, and lands we visit.
Expeditions Alaska is also a member of the Alaska Travel Industry Association (ATIA), "the leading industry organization promoting Alaska as a top visitor destination".
Certified Gold Standard by Adventure Green Alaska, Expeditions Alaska, and owner Carl Donohue are also members of national and international professional organizations such as the North American Nature Photographers Association, Sustainable Travel International, Ecotourism International. We've also partnered with outdoor gear leaders like Arcteryx and Patagonia and Mountain Hardwear to provide you the best service and equipment we can.
We make every effort to be good and caring stewards of the wilderness through which we trek. Dedicated to the land that I call home, the places I want to show you, I commit as much as 5% of all Expeditions Alaska profit to ecological conservation and humanitarian agencies.