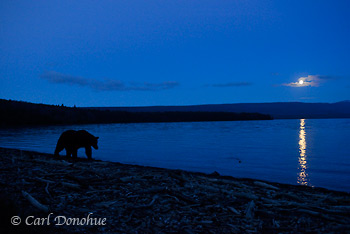 Hey Folks,
Slowly catching up on image processing and whatnot after a full season of adventure. This year I ran a few new trips, which I'm looking forward to continue to explore over the coming years, but also enjoyed returning to some of the old favorite haunts. This image if from the Grizzly Bears in the Fall tour, a favorite of mine and popular tour every year.
Shooting these "animals in the landscape" style of photo is always difficult, as there are so many elements to combine. They also tend to work much better when shooting solo, as it's difficult to get a group of people, even a small group, all in exactly that optimal spot for such a composition. As such, I tend to shoot more of the tighter "portrait" style shots on photo tours, and fewer of the animal in a greater landscape.
That said, I tend to really enjoy the wider image; my preference for wildlife photography is either to go extremely tight on framing the subject, or very wide. One of the folks on the trip shot this frame with about 16mm (I was at 28mm), and I really like this version; very sparse.
After returning from a great day of shooting, I was putting my gear away when I noticed the moon slowly edging its way over the horizon. I hollered to a few folks nearby we should go and shoot it. We went down to the nearby lake, saw this old boar grizzly in the area, and hoped he'd oblige us with a photo opp. He was definitely not quite sure what this weird group of spectators were doing lined up for his nightly walk, but eventually he walked by. We were all careful to remain as still as possible, and not burst off rapid-fire frames. The bear walked by slowly, and I believe everyone made at least a couple of images that came out OK. Good fortune all around.
More bear photos to come soon, including a couple of surprises and announcements. Stay tuned, folks.
Cheers
Carl