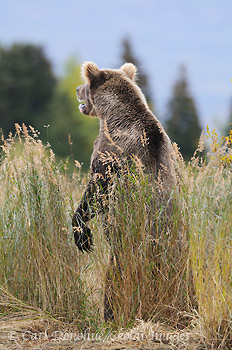 Hey Folks,
Here's a photo that might be of interest to photography fans here. To me, this photo expresses what nature photography is all about; shooting, re-shooting, shooting some more, time and again, and doing everything you can to 'get that shot', and still coming home empty handed. How so?
One of the photos I REALLY want is a big ole grizzly bear standing upright, with a nice background. So far, I've not yet made that image. I've been fortunate enough to have a few opportunities, and unfortunate enough to blow every single one of them.
To catch a nice, full-frame shot of a bear standing upright means anticipation, as well as luck. More often than not, when I've been close enough to make a shot like this, I'm shooting with the camera/lens in a horizontal position, and when the bear stands, I can't fit it all in the frame. It's simply too easy to miss this kind of shot and too hard to actually nail it.
Adult bears rarely stand upright, and when they do, they don't do it for very long. Generally the behavior is a 'look around'; something alarms the bear and they stand up to get a better view, sniff the air, and see whether they need to flee, or ignore the potential danger. A few seconds is all they stand for, most of the time, and they drop back to all fours. That means to make the photo, the photographer has to be in position and ready for the shot ahead of time; there simply isn't time to switch the camera/lens to a vertical position and shoot – well, I should say RARELY is there time to switch. Sometimes it happens, but not often.
So, with this particular instance, I was ready. I was leading the Bears in the Fall photo tour, and we'd been photographing this bear, when I noticed a commotion in the background. Another bear, a large dominant boar, was chasing a younger bear, trying to steal it's catch of Sockeye salmon. This attracted the attention of a number of bears in the area, and all fled the scene. Literally, 7 bears took off every which way, racing through toward the forest.
As amazing as it was to see this, I turned back to this particular bear immediately, because I suspected she'd do exactly this; rise up and look around. I suggested to the group that we get ready for her to stand up, and I'm pretty sure everyone switched to vertical.
She stood for a few seconds, and I made (I think) 3 images. Now, had I happened to be on the other side of her, I might have just made that perfect photo (notwithstanding the fact that I'd probably have been run over by a stampede of grizzly bears). Or, had she turned, just for a moment, and held this pose facing me. But, she didn't. She briefly observed the commotion, dropped back down to the ground, and resumed watching the nearby stream for fish.
So, as hard as we worked, and as many hours as we put in, and anticipated everything, etc, etc, we still came away without 'that shot' that I really want. Close, though. I mean, she's a massive bear, had her mouth open, claws out and forelegs wide, and the spruce and birch trees in the distance give a nice soft, out of focus yet defined background that say 'wild'. All she had to do was turn around. 🙂
And maybe, if I do everything right, just maybe the Great Bear Who Walks Like a Man (or is it we who walk like the bear?) will one day give me that photo. Nature photography lies, after all, in the hands of nature as much as it does the photographer. Sometimes nature simply doesn't want its photo taken, regardless how hard we try to make it happen. So, maybe next time, right? I'll go back next year, in 2011, and try again. And again. Until then, I'll edit what I got, and get back to work.
Cheers
Carl