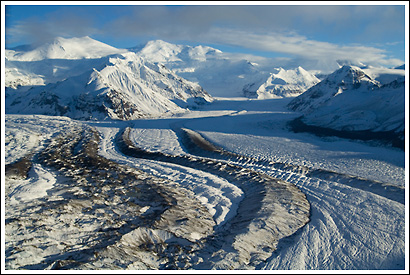 Hey Folks
Backpacks are, of course, an integral piece of gear for a backpacking trip. What kind of backpack works best for you is not for me to say (see, for example, this post about what size backpack you need), but I can give you some information that might help you.
I like internal frame backpacks. I think they carry better than external frames, particularly for off-trail hiking such as the Southern Traverse. A well-fitted internal frame pack will ride on your back closer, with less movement, and also allow you to walk in a more upright position, as the packweight, being closer to your back, doesn't need to be offset by you leaning forward. On the other hand, one of my best friends hikes with an external frame backpack, and he loves them. Chocolate and strawberry, I suppose.
My backpacks include an old Dana Designs backpack, the Alpine, which I've had for years. I love that pack, and just recently had a few repairs done to re-stitch the stays and a grommet that pulled out of the top skirt (after carrying the pack for 12 years, on how many trips I have no idea). I love this pack. It has a beaver tail on the back, which is great for strapping tripods, crampons, etc on the outside. The only thing I don't like about it is the water bottle pockets. They're Cordura nylon, very durable, but not flexible, which makes putting a water bottle away, with the pack on my back, way more of a mission than it needs to be. It's embarrassing to ask for help, so I stand there like an idiot for 5-10 minutes trying to put my water bottle away.
Usually someone will get bored and offer their assistance, rather than watch a grown man look like a 3 year old. 🙂 I'll repeat myself though – other than the water bottle pockets, I love this pack. I've carried it for years, and done countless memorable trips with it. Loaded down with huge weights the pack carries them wonderfully well, and is a tribute to a superb design. The Terraplane, by Dana Designs, is the same pack, pretty much, without the beaver tail. Excellent gear, though I can't say the newer Dana packs are as good as the older ones. Dana Gleason, the founder, sold the company to K2 years ago, and production shifted outside the US – quality seems to have gone down since, but they still are a good design. The Dana Bomb pack, while maybe not large enough for a weeklong trip, is a classic.
My newest pack, which I've had for over a year now, is the G-5000, by Mystery Ranch. Dana Gleason started this company, based in Bozeman, Montana, after he sold Dana Designs. I've heard different things about the service offered by Mystery Ranch, but my experience with them has been excellent. I've visited the store several times, when I was in the Yellowstone area, and they've always been first rate. The people working there know their stuff, and are very helpful.
The pack itself is awesome. It took me a little while to learn how to adjust it best for the right fit, because it works quite differently to those I've carried in the past. Even though I had the fellow who built the pack help me fit it initially, it still required some adjustments when I was on the trail. After a trip or 2, I had it down pretty well, and the backpack rocks. It carries a heavy load even better than my Alpine does, it's comfortable, AND the water bottle pockets are easier to my Nalgene in and out of. I did a 12 day trip this last summer with a very heavy pack, and was more than impressed with how comfortably it carried the load. For big loads, this pack is awesome. The construction of the pack is excellent, and I doubt I'll see any issues with needing repairs for years to come – though the lifetime warranty that comes with any Mystery Ranch gear definitely makes any potential needed repairs less of a headache.
I also really like how the top pack that removes easily to make a little fanny pack for day hikes. Most internal frame packs have this feature nowadays, but the way this one works is great. I don't need to remove the backpack's hipbelt, which is nice. the bag part of this fanny pack is split into 2, but that can make it great for food and water in one section, and a jacket or lens or camera, etc, in the other. It certainly can pack in enough stuff for a nice walk, and it carries great.
Other brands I've been reasonably impressed with include Osprey and Gregory – particularly Gregory packs. Dan McHale makes great packs, but they're WAY pricey. As with most gear though, it's a subjective thing, and i can't reiterate enough how beneficial it is to really put a backpack through some testing before you purchase. Learn about the pack, not just the numbers like weight and volume, but what is involved in fitting the pack to you. A backpack, probably more than any other piece of gear, can really be tweaked to a better fit, so seek some input from a reputable salesperson, or, if you're able, visit/talk to the manufacturer. Most good outdoor stores' staff receive training programs from many manufacturers, so they often know a lot about the gear – if yours doesn't, find another. Having an ill-fitting backpack can be as ugly as having badly fitting boots when you're on a week long (or longer) trip in the mountains. Learn the best order to tighten up the various straps, Learn whether your pack carries better if it's tighter, looser, or snug. Learn how to pack the backpack, where which gear goes inside it, etc, so as to get the most out of your backpack. There's an awful lot of technical 'know-how' in a high end backpack, and it really can make a difference to how much you enjoy your trip.
I probably end up working with at least one backpack per trip, helping folks fit it correctly, pack it correctly, and sometimes even repairs. A lot of this is simply part of the job of being a guide, which is fine, but where it can be a hard is if the pack is not one I'm familiar with, we're in the middle of a week long outing, and I need to make some adjustments. Some packs are designed really uniquely, and it can take a while to figure out how to adjust the size, or the stays, etc. Definitely get some input upfront when you buy a pack from the people who have training in that particular piece if equipment.
I think the main thing here is, just to reiterate, that you understand a modern backpack is a pice of technical equipment, and having the technical knowledge of its construction, and fitting techniques, can make a HUGE difference to how comfortable the pack feels on your back. When you test it out in the store, have them load 50 pounds in it… it may seem like a lot, but I don't see too many people who arrive for a trip with less than 45 pounds in their backpack – particularly novice hikers. So put 50 pounds in the pack, and walk around the store, for at least 10 minutes. Not 2 minutes, not 30 seconds, but at least 10 minutes, around and around .. you'll notice a big difference between the first minute and the last! Next, when you DO make a decision and buy a pack, take it out for an overnight hike, or a weekend trip. See how it feels on the trail, loaded with camping gear, etc. If you have any issues, go back to the store, and have them adjust the fit, pay special attention to WHERE it doesn't feel right, often a simple strap adjustment can make that work properly, if someone knows what they're doing with the backpack. if the salesperson does NOT know what they're doing, ask for someone else to assist.
A good, well made backpack can last years, and really be money well spent if you do any amount of backpacking. I've also got a few smaller weekend and day hike backpacks, and maybe I'll write up something about those in another post.
As always, I hope this information helps. Post a question if you've got something specific to ask, and I'll try to provide an answer, or do some research and help out if I can.
Cheers
Carl